There are times when you want to just unwind with a movie or show, and North Georgia has some amazing historic theaters including 2 of Georgia's drive-in theatres!
Theaters in the North Georgia Mountains
According to the Swan Drive-In's website:
To date there are a total of less than 250 Drive In Theaters operating with Digital Projection in the US and a total of 310 operating over all so visiting the Swan is a great opportunity to revisit the past or just to have a great time!
With the declining number of drive-in theaters it is nice to visit one while you have the opportunity. See a first-run film either from your car or sitting outside your car.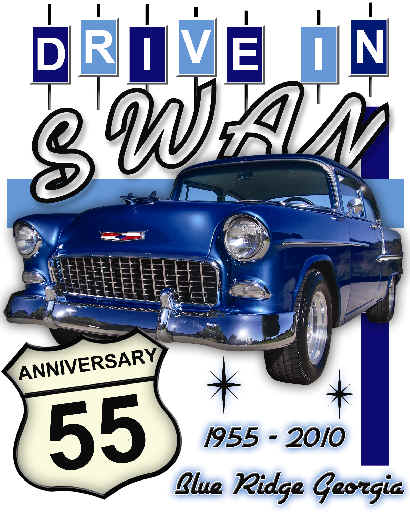 The Swan Drive-In has been in the area since 1955 and it's history can be read online.
The Swan is equipped with FM Stereo Sound, Just tune your car radio to 105.5 FM. Portable radios work also.
The Swan Drive In Theatre offers a unique taste of the past with current first run movies. You can enjoy a movie outside under the stars or in the privacy of your car. Don't worry about crying babies or non-smoking areas, you can relax and enjoy yourself. The Swan prides itself on being a family oriented theatre and has a zero tolerance for bad conduct so come on out and enjoy a movie. We have a full concession. See menu below:
Foods available in the concession stand include funnel cakes, fried oreos, popcorn, hotdogs, corn dogs, hamburgers, nachos, french fries, candy, soft drinks, and more!
HOURS
Open Friday, Saturday and Sunday Night Only
Box office opens 6pm
PRICING
$8 – Adults (ages 12+🙂
$5 – Kids (ages 4 – 11)
Free – Kids (under age 3 – 6)
Cash only (no ATM on site)
No other discounts
Concession Stand includes favorites like funnel cakes and fried oreos.
Pets are allowed as long as they are kept on a leash and do not cause a disturbance to others.
In the event of rain the movies will still show.
No grills allowed
LOCATION
Address: 651 Summit Street, Blue Ridge, GA
Phone:

706-632-5235
706-632-6690
This community theater hosts big events like concerts and stage productions. Hours and pricing vary depending on event.
LOCATION
Address: 2591 East 1st St, Blue Ridge, GA
Phone: (706) 632-9191
Originally opened in 1954 and reopened in 2004. Regular movie showings and special events like the monthly Hot Rod night (the first Saturday of every month).
At Tiger Drive-In we are bridging the gap between our classic past and our bright future. There used to be over 5,500 drive-in theaters worldwide and now we are one of only 349 left . . . providing you a unique place to make memories that you simply can't find anymore.

Experience the movies from your car like the "old days" but with the benefits of all of our modern amenities with our modern and high quality digital projection. We have all grass terraces, FM broadcasts, outdoor speakers, Pandora pre-show music, Wi-Fi, and the delicious TDI Grill. Even better, we accept Credit Cards, are pet friendly, have a playground for the kids and so much more!

So bring your picnic blanket or cozy up in your car. We'll be here waiting on you!
HOURS
Friday, Saturday and Sunday Night Only
TDI ticket office, grill and playground open at 4:30pm with first movie at 6:00pm. Come early for a picnic, dinner from The TDI Grill, playground time for the kids, corn hole games, and more!
PRICING
$10 – Adults (ages 12+🙂
$5 – Kids (ages 4 – 11)
Free – Kids (under age 3 – 6)
$20 per night to camp in your RV (includes the bathroom and showers that stay open plus an available BBQ Grill)
$99 per night for AirBNB rental of 1 of 2 vintage campers on the theatre site (plus $40 cleaning fee)
LOCATION
Address: 2956 Old US Highway 441 S, Tiger, GA
Phone: 404-680-5066