Harvest Festivals & Apple Picking in North Georgia
When the weather changes and the air fills with the scent of ripened fruit, it's time to head to North Georgia to spend a day in nature at one of the pick your own fruit farms.
As expected, there are many apple orchards near Ellijay GA, the "Apple Capital of Georgia."  There are also apple orchards in North GA in many other great towns! If you've ever been to North Georgia and wondered, "Are there apple orchards near me?", the you-pick fruit guide below can help you locate where to pick your own fruit!
The Autumn apple harvest is the most popular time to visit the well known farms like Mercier Orchards (Blue Ridge GA) or explore some of the smaller orchards in the mountains. These family friendly places let you pick your own apples (from dozens of apple varieties), pumpkins, and more!
Additionally, there are other opportunities to celebrate North Georgia's agricultural history and customs at annual harvest festivals like the Georgia Apple Festival. Take a look at the festive options below and choose your favorite(s) to celebrate the harvest!
Note that fruit availability can vary depending on recent weather, overall season yield, customer attendance at farm, plus other factors. It is recommended to contact each farm in advance of your trip to confirm their hours and availability.
Pick Your Own Fruit Farms in North Georgia
These beautiful orchards and farms offer you-pick fruits and often also include additional family activities like games and hay rides! Learn more about these pick your own fruit farms and make plans to visit your favorites during the beautiful fall harvest season.
Mercier Orchards is the place for apple picking in Blue Ridge, GA. This 300-acre orchard features blueberries, cherries, strawberries, apples, and more. This family-friendly destination is open early and invites you to dine at their café (Sat & Sun breakfast buffet), pick your own fruit, try the adventure / obstacle course, enjoy catch-and-release fishing in their pond, and sample their hard ciders and fruit wines in their tasting room!
There is also a Mercier Orchards store in downtown Blue Ridge — make sure you get directions for the location of your choice (in-town store or farm / orchard) when making the trip!
Contact & Visit Mercier Orchards Blue Ridge Georgia
Hours: Open 7 days a week from 7:00 a.m. – 6:00 p.m.
U-Pick schedule: seasonal fruits picked on Fridays, Saturdays, and Sundays (10:00 a.m. – 4:00 p.m.) see website for details
Cost: $5 (ages 2+) plus cost of fruits picked
Phone: +1 (800) 361-7731
Farm Address: 8660 Blue Ridge Drive, Blue Ridge, GA
Website:mercier-orchards.com
Mercier Orchards Reviews & Social Media
Facebook: @mercierorchards Rated 4.8 (2,500+ reviews), 70,500+ Likes
Instagram: @mercierorchards 9,900+ followers
TripAdvisor: Rated 4.5 (2,200+ reviews)
The Cider House Orchards are family owned and operated and offer Southern meals nestled amongst acres of rolling orchards in the Appalachian mountains. Stop in to purchase fresh fruit that has already been picked, or enjoy apple picking in the GA mountains on "U-Pick Wagon Rides" that are available every weekend and during the week!
Visit their website to see which fruits (apples, blueberries, pears, peaches) are available to pick. Call ahead to make an appointment.
Contact & Visit The Cider House Orchards
Hours (seasonal): call for specifics and / or appointment
Phone: +1 (706) 492-7753
Address: 2984 Mobile Rd, McCaysville, GA
Website:theciderhouseorchards.com
The Cider House Orchards Reviews & Social Media
Facebook: @Cider-House-Orchards-106784536044145 Rated 4.5 (65+ reviews), 2,100+ Likes
TripAdvisor: Rated 4.5 (80+ reviews)
Spend a fun day picking your own apples, pumpkins, and flowers at the farm at Red Apple Barn in Ellijay GA. Enjoy the gorgeous mountain scenery on a wagon ride behind the tractor up to the apple orchard. When you're finished in the orchard, be sure to retreat back to the Red Apple Barn to enjoy a pie, fritter, cup of cold cider, or one of the other freshly made local treats.
Take your time and enjoy the "Family Fun Barn" while playing a friendly game of cornhole or horseshoes after apple picking in Ellijay Georgia at Red Apple Barn.
Contact & Visit Red Apple Barn
Red Apple Barn Reviews & Social Media
Facebook: @redapplebarn Rated 4.7 (170+ reviews), 7,850+ Likes
TripAdvisor: Rated 4.0 (35+ reviews)
The Hillcrest Apple Orchard GA provides lots of unique autumn farm experiences for families — including the south's first Apple Tree Maze (open on select weekends)!
Visit during their annual apple picking festival Georgia — the "Apple Pickin' Jubilee." This festival happens during September and October weekends for U-Pick apples, live music, cow milking, swimming pig races, kiddie corn maze, wagon rides, petting farm, and more. Enjoy farm-produced products including apples, pies, fritters, donuts, jams and jellies, cider, and other gourmet foods.
Contact & Visit Hillcrest Orchards and Farms
Hillcrest Orchards and Farms Reviews & Social Media
Facebook: @hillcrestorchardsellijay Rated 4.5 (625+ reviews), 11,500+ Likes
TripAdvisor: Rated 3.5 (120+ reviews)
The BJ Reece Apple Orchard in Ellijay GA is a U-pick apple farm that opens for the season during late August and runs through late October (with selected attractions open through late December). Enjoy family-friendly activities at BJ Reece Orchards including hayrides, apple cannons, pony rides, petting farm, corn maze, zipline, lots of fresh seasonal produce, and a delicious bakery filled with fried pies, donuts, and breads!
Dogs (on leash) are permitted in the orchards.
Contact & Visit BJ Reece Orchards
BJ Reece Orchards Reviews & Social Media
Facebook: @BjReeceOrchards Rated 4.6 (520+ reviews), 12,300+ Likes
Instagram: @reeceorchards 1,450+ followers
TripAdvisor: Rated 4.5 (135+ reviews)
Visit one of the best pumpkin patches in Georgia and enjoy the hayrides and a country store. Admission to the farm and parking are FREE, and hayrides are $6 / person (children 2 years old and under are free). An online store is open year-round. No pets or firearms allowed at Burt's Farm.
Contact & Visit Burt's Farm
Hours (seasonal)

Open daily during peak Autumn season from 9:00 a.m. – 6:00 p.m.
Hayride daily during peak Autumn season from 9:00 a.m. – 5:00 p.m.

Phone: +1 (800) 600-2878
Address: 5 Burt's Farm Rd, Dawsonville, GA
Email: burtsfarm@gmail.com
Website: burtsfarm.com
Burt's Farm Reviews & Social Media
Harvest Events in North Georgia Mountains
In addition to the fun apple picking in Georgia, there are also local events and festivals that celebrate the agricultural history of these mountains. Make plans to attend one of these family-friendly events and enjoy the local flavors! Or, choose from one of many other local annual events in the Georgia Mountains.
Please note that these events have been cancelled for 2020 to help limit the spread COVID-19 coronavirus.
Apple Arts on the Square (Ellijay)
During the second and third weekends in October (the same weekends as the Apple Festival), the Gilmer Chamber hosts Apple Arts in historic downtown Ellijay. Enjoy the local shops and restaurants at this free, pet-friendly event. Vendors are set up on broad street next to the Gilmer County Courthouse.
Contact and Visit Apple Arts on the Square

This local festival is in it's 50th year of grinding and cooking of sorghum syrup and celebrating the town's sorghum history. Watch demonstrators cook sorghum over a wood fire on a copper pan and enjoy arts, crafts, exhibits, food, music, and fun activities for all ages!
The event hosts contests include pole climbing, log sawing, horseshoe pitching, and rock throwing. A parade (with prizes for the best floats) goes through town on Saturday, October 12th at 11:00 a.m. (rain or shine). Live Bluegrass and country music daily and a Square Dance on Saturday October 19th at 8:00 p.m.!
Contact and Visit the Blairsville Sorghum Festival
2020 Dates: Cancelled

Cost: $5 (ages 13+), FREE for ages 12 and under, FREE parking

Phone: +1 (706) 745-4745
Address: Meeks Park (90 Meeks Park Rd, Blairsville, GA)
Website: blairsvillesorghumfestival.com
Blairsville Sorghum Festival Reviews & Social Media
Facebook: @BlairsvilleSorghumFestival Rated 4.7 (90+ reviews), 3,250+ Likes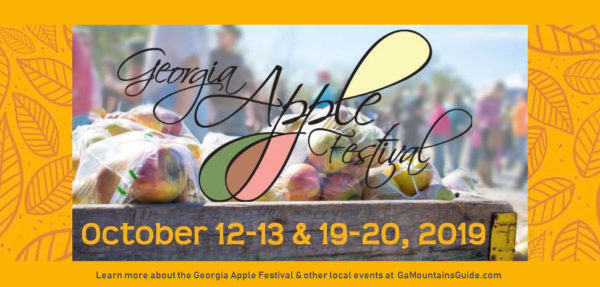 The annual Apple Festival in Ellijay GA features handmade arts and crafts, live entertainment, a classic auto show, a parade, and delicious treats from hundreds of vendors! And of course, there are countless opportunities to get more first hand knowledge about the qualities and varieties of Ellijay apples that you will find at the Georgia Apple Festival.
The Georgia Apple Festival happens every year on 2 weekends in October. This event is the area's biggest festival and draws a lot of people out to celebrate, so expect higher than average traffic on these weekends.
Contact & Visit the Georgia Apple Festival
2020 Dates: Cancelled

Cost: $5 (ages 11+), FREE for ages 10 and under, $5 parking

Phone: +1 (706) 636-4500
Address: Lions Club Fairgrounds (1729 S Main St, Ellijay, GA)
Email: info@gilmerchamber.com
Website: georgiaapplefestival.org
Georgia Apple Festival Reviews & Social Media
Facebook: @GeorgiaAppleFestival Rated 4.4 (160+ reviews), 30,500+ Likes
***
Make sure you feel prepared with these products that will make your harvest adventure even more memorable!

***
Which farms / events look the most interesting to you?