Waterfront Dining in the Georgia Mountains
While visiting the scenic Georgia mountains, visit the best restaurants in North Georgia with scenic water and mountain views. Whether you want a fine dining experience, a casual meal, or a place you can boat into, you can find exactly what you like at these North GA waterfront restaurants.
The scenic restaurants below are organized by the town that they are near. A few of them go right through town, while others are in more remote locations.
Quick Article Navigation:
Map of North Georgia Waterfront Restaurants
Use the interactive map and the detailed restaurant guide to find the great restaurants in North Georgia where you can enjoy scenic views of the water with a  great meal!
North Georgia Waterfront Dining
Many of these restaurants are only open during the busier Summer months when lake or river traffic is at its peak. Phone numbers have been provided so you can call ahead to ensure the restaurant is open when you want to visit.
Blue Ridge Waterfront Restaurants
These waterfront restaurants near the mountain town of Blue Ridge offer a great way to enjoy the water while you dine. Choose a spot on the Toccoa River or a lively marina bar & grill on Lake Blue Ridge.
The Toccoa Riverside Restaurant is located near Blue Ridge in the Aska Adventure Area. This restaurant on the Toccoa River is a great option whether driving in or paddling a canoe down the river. Enjoy fresh seafood, steaks, sandwiches, and salads at this tucked-away spot in the North Georgia mountains.
The outside deck and bar areas are dog friendly – they even have a menu for "canine cuisine".
Open Wednesday – Sunday for lunch and dinner.
This casual spot on Lake Blue Ridge offers appetizers, salads, entrees, beer, wine, and cocktails. Open daily at 11 a.m. (closes 9 p.m. Sun – Thu & 10 p.m. Fri – Sat). Closed during off-season.
Clayton Waterfront Restaurants
These waterfront restaurants on Lake Burton in Clarkesville provide great food and the option to drive in or boat over to the restaurant!
Open Thursday through Monday, Milton Park features Neapolitan-inspired plus salads and appetizers. Enjoy craft beer, wine, and a cellar list with something for everyone. Located at Laprades Marina on Lake Burton.
The Chophouse of La Prade's (Closed)
After 12 years on Lake Burton, The Chophouse at La Prade's Marina is moving to Franklin, NC, in April 2023 to a space with a year-round business model. Another restaurant is rumored to be moving into the beautiful lakefront space, so keep an eye out for a new restaurant announcement soon!
Cleveland Waterfront Restaurants
The Creekside Deli has been serving the town of Cleveland for over 30 years. This quaint spot isn't on a river or lake but does have an outdoor patio that overlooks the creek and is open 7 days a week (11:00 am – 8:00 pm).
This casual restaurant is located on a quiet stretch of the Chestatee River between Cleveland and Dahlonega. Enjoy indoor or outdoor dining. Outdoor decks on 2 levels allow you to spend time downstairs (closer to the water) with a drink, or dine upstairs in the dining room or on the screened-in deck.
Dahlonega Waterfront Restaurants
In addition to these restaurants on the water, you may also enjoy a meal at Montaluce Winery and Estates or Frogtown Cellars. Both of these Dahlonega Plateau vineyards have seating with scenic views of the irrigation ponds that are next to their mountain vineyards.
Helen Waterfront Restaurants
You have your choice of a handful of waterfront restaurants on the Chattahoochee River in Helen. Choose your preferred style of dining and enjoy a nice meal along the river bank.
Alpine Brew Deck
This waterfront restaurant on the Chattahoochee River is great for casual dining and cold drinks at tables that are almost directly over the river. Enjoy live music and a lively bar scene. Outdoor dog-friendly seating is available on the covered deck by the water.
This restaurant is right in the middle of downtown Helen and is located directly on the Chattahoochee River! It features a covered deck to enjoy the nice weather on the riverfront with your drinks and American and German food. Open daily from 11:00 a.m. until 8:00 p.m. (closes at 9:00 p.m. on Friday and Saturday).
Hofbrauhaus Restaurant & Pub is located at the northwest end of the Helen main street on the Chattahoochee River and is open daily from 11 am – 9 pm. Enjoy this restaurant modeled after the famous Hofbräuhaus in Munich, Germany. The Hofbrauhaus menu boasts German favorites and American standards, so there is something for everyone. Dog-friendly outdoor patio and live music on the weekends.
This location is named for its location "under the bridge" on the river right in the heart of downtown Helen. You'll find a menu with German and American favorites, as well as a beverage menu with beer, wine, and cocktails. Souvenir mugs are also available.
These restaurants include a Steakhouse located at the intersection of the Chattahoochee River and Main Street, with an adjacent lively margarita deck located just upstream (also on the river).
The steakhouse is indoor fine dining (with windows big enough to take in the water views) and primarily serves steaks and seafood. The margarita deck is open to enjoy the weather on a nice day and serves drinks with a food menu of mostly casual sandwich "baskets". Live music on Friday and Saturday nights.
Hiawassee Waterfront Restaurants
The town of Hiawassee sits on Lake Chatuge and has many places along the lake (or just across a 2-lane road) that provide beautiful views of the lake and the mountains. For the finest dining experience, you must try The Oaks Lakeside Kitchen for a gourmet meal and an extensive wine menu. For something more casual, there are many other options all listed below. Please note that some of these are not waterfront, but they are across the street and provide water views.
Located on the water at Lake Chatuge, this is where to go for a memorable fine dining experience for breakfast, dinner, or Sunday brunch (not open for lunch). Located within The Ridges Resort on Lake Chatuge, there are plenty of manicured pathways to stroll around to enjoy the scenery after your meal.
Marina Station is located on the water at Lake Chatuge and is a comfortable, relaxing, newly renovated space with over 40 feet of bar service and plenty of TVs to watch your favorite team. There are four garage doors that open onto the deck, to allow unimpeded views of the surrounding natural beauty of the lake and mountains. The downstairs patio offers a walk-up bar, yard games, and plenty of space to stretch your legs and enjoy the band. Arrive via bike, car, or by boat! Open Wed – Sun at 11:00 a.m.
This barbecue joint is located directly on the lake, but it is surrounded by parking and landscaping which obstructs the lake views a bit. The best views of the lake and mountains are available on the patio when the weather is agreeable.
This property has a narrow view of Lake Chatuge and the Blue Ridge Mountains from its patio. Multiple types of barbecue sauce on the table to please those who want spicy, vinegary (is that a word??), or sweet barbecue sauces. Enjoy the sandwiches and platters with generous portions of side items. Only open select days of the week. Call for hours.
This casual Mexican restaurant is across the street from Lake Chatuge, but close enough to enjoy the scenic lake views. Outdoor seating is available to take advantage of great weather and the beautiful views.
This spot is across the street from Lake Chatuge but still offers plenty of lake and mountain views. The menu is mainly typical bar food with wings, pizza, and sandwiches. The sand "beach" out front is a lively spot with live music every Friday and Saturday night.
These 2 restaurants share a building across the street from Lake Chatuge but offer different styles of dining.
Moondance is casual and offers happy hour specials, kids' dance parties on select nights, weekly entertainment, and pet-friendly outdoor seating. Eclipse is newly opened with a fine dining menu including a 45-day aged, 40oz Tomahawk steak.
McCaysville Waterfront Restaurants
Located on the state line of Georgia and Tennessee, these three restaurants share their entrances and provide a fantastic view of where the Toccoa River becomes the Ocoee River. Enjoy a meal on the outside riverside decks for the most scenic views at the historic @RiverwalkShops.
Located in McCaysville with a dog-friendly deck overlooking the Toccoa River, this casual spot is a great place to enjoy a meal. Burra Burra on the River celebrates the #CopperBasin with classic American food, beer, & wine.
This riverfront cafe serves breakfast, bakery goods, and ice cream all day long! In addition to breakfast, after 11:00 am, they offer gourmet hot dogs, beer, and wine! Open 7:00 am – 7:00 pm (no alcohol sales on Sunday).
Stop by this waterfront North Georgia restaurant for wood-fired pizza, pasta, and freshly baked Italian sandwiches, and enjoy them on the outdoor riverfront deck.
Other North GA Waterfront Restaurants
In addition, these lakefront restaurants are great options when in Chatsworth or Toccoa!
Enjoy a casual lakefront meal at this marina restaurant on Carter's Lake, about 20 miles from both Ellijay and Chatsworth.
This casual lakefront restaurant is open daily during the peak Summer season, and on weekends only during other times of year (it's unlikely to be open during the coldest months). Featuring a kid-friendly menu of pizza, sandwiches, hot dogs, and sides, this restaurant will prepare your food in advance for call-in orders. Beer and wine sales are available in the restaurant. If you'd like to sit in the restaurant, allow 15 minutes for food prep while you enjoy the scenery of Carter's Lake.
 ***
Be sure to confirm open hours and availability before making a trip. Some waterfront restaurants operate seasonally and are not open daily or year-round.
Don't forget to take your selfie stick to capture the moment at these scenic restaurants in North Georgia and share it with your friends!

***
Thank you for saving and sharing this article!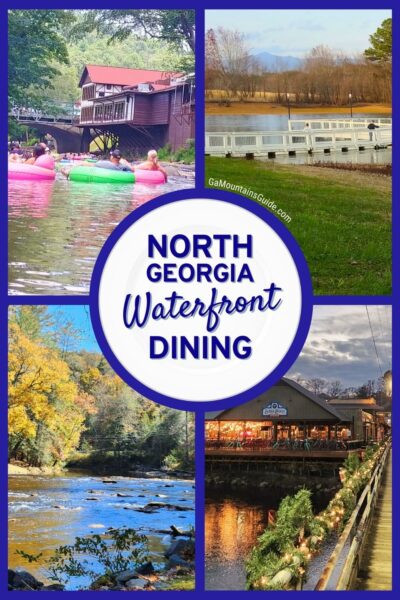 Which of these waterfront North Georgia restaurants are you planning to try first? Do you prefer the soothing movement of the rivers or the peaceful tranquility of the lakes?