A summertime trip to the Georgia mountains is the perfect time to enjoy a tubing trip in one of the beautiful rivers. There are locations close to many of the mountain towns, and in Helen, GA you can actually float right through the main town on the Chattahoochee River.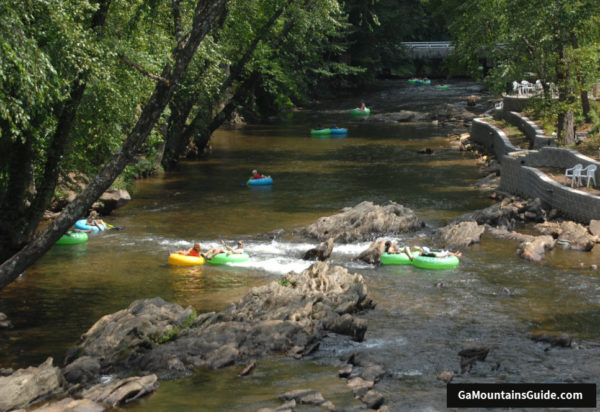 Tubing North Georgia can be done in a shallow, slow moving, narrow river or in wider, deeper rivers. If you have planned ahead, you can take your own raft and enjoy this activity anytime. However, you'll need to take your gear and make sure that you have a ride back to your drop in point, so it will help to have 2 cars available (one to park at the start of your trip and one to park at the end of your trip).

Continue reading to learn about tubing options in the Georgia mountains and how to prepare for your trip!
Tubing on the Rivers in the Georgia Mountains
For an option that involves less planning, you can choose to rent a raft from one of the tubing operators. The services offered can vary, but be sure to find out if your rental includes transportation back to your starting point.
Here are some of the places and businesses where you can rent rafts for tubing in the Georgia mountains.
Cartecay River Tubing
The Cartecay River land is mostly undeveloped, but the river does pass through residential developments. The headwaters of the Cartecay River begin in the Chattahoochee National Forest and is a great recreational river for kayaking, canoeing and tubing.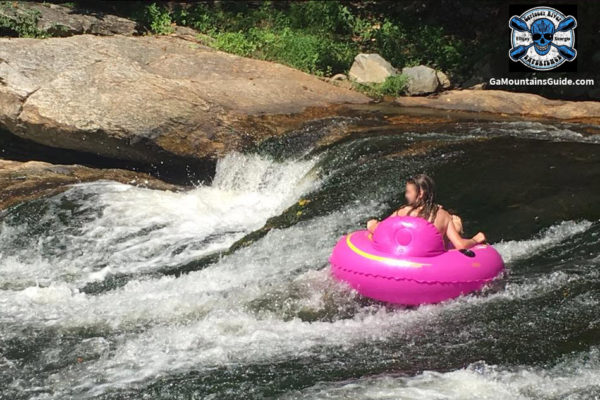 This outfitter has everything you need for a fun day on the river, plus they allow those who have their own gear to park at their site! Shuttle service is available year round (reservations required September – April). All ages are welcome.
This location in Ellijay is $13 cash ($15 credit card) and includes rental of tube and safety gear. Small (personal sized) zippered coolers are allowed but they must fit inside the tube with you. No glass allowed.
CONTACT & VISIT
REVIEWS & SOCIAL MEDIA
In addition to tubing, kayak and canoe rentals are also available.
Chattahoochee River Tubing
The section of the Chattahoochee River in Helen is one of the narrowest and shallowest options for a leisurely river float. These trips feel a little different than most of the others as this twists right through the middle of the Alpine village of Helen.
The water is calm and relatively shallow, with rocks along the river and on the bottom of the riverbed. You are going to occasionally float into a rock and need to push yourself off of it to continue floating downstream. The amount of recent rain will affect the water level of the river, and if it has been dry, then you'll find yourself needing to push off and work a little harder to continue downstream. There are a couple of swimming holes with water deeper than 5′, but the area is mostly shallow water.
This stretch of the river can get very busy, so if you want to avoid the crowds, plan on getting there very early. Dogs are welcome to float along with you.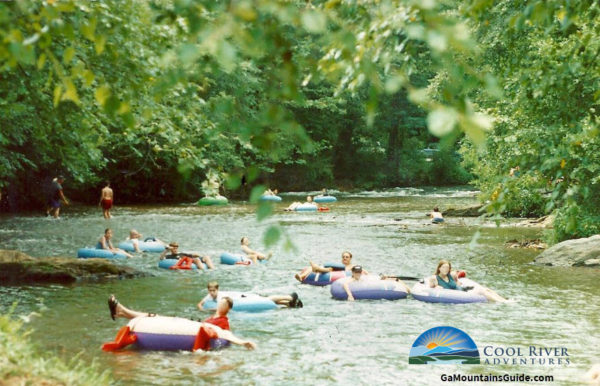 The company with the green tubes has 2 outposts where you can choose the length of your trip (if the water level is low, then the shorter run is recommended). The cost is $10 (for either trip) or $14 for all day tubing. Group rates are available for 10+ people. Tubing is available to children ages 3+. Dogs are welcome.
There is also a single waterslide available for and additional $5 (must be at least 42″ tall). Push sticks are available to purchase for $5 and are highly recommended. Free tubing is available with select Adventure Park Combos. Reservations are recommended.
No coolers, cans, glass, or alcohol. Must wear shoes (flip flops are not allowed).
There is a picnic pavilion with tables and grills, as well as a cafe with seating on the deck overlooking the river.
CONTACT & VISIT
REVIEWS & SOCIAL MEDIA
In addition to tubing, there are also ziplines, a climbing wall, and adventure courses at Cool River Adventures.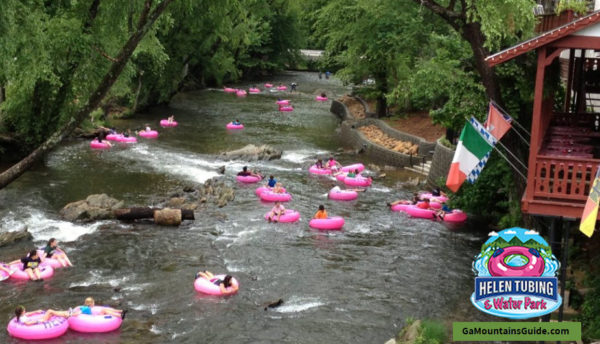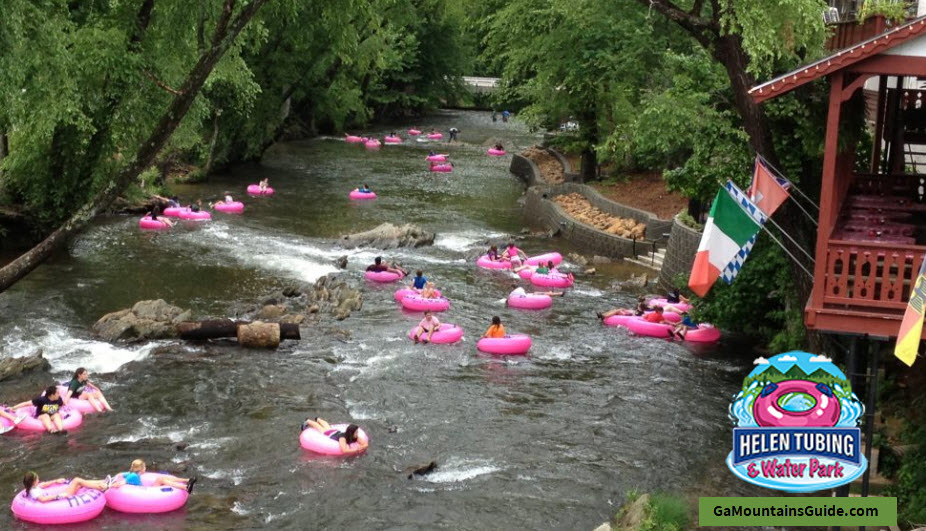 The company with the pink tubes also has a waterpark with 4 waterslides and a lazy river! There is only one ride down the river (single entrance / exit point). The cost is $8 per person for one trip, or $12 per person for unlimited tubing (available Mon – Fri only). There is no minimum age for tubing. Free unlimited tubing with a waterpark pass! Push sticks are available to purchase for $5 and are highly recommended (tree limbs are not allowed for use as push sticks). Dogs are allowed to go tubing, but are not allowed in the water park.
No coolers, cans, glass, or alcohol. Must wear shoes (flip flops are not allowed).
CONTACT & VISIT
REVIEWS & SOCIAL MEDIA
Also includes a rock wall attraction.
Chestatee River Tubing
The Chestatee River is an excellent beginner's river with an easy float experience near the former gold-rush town of Dahlonega.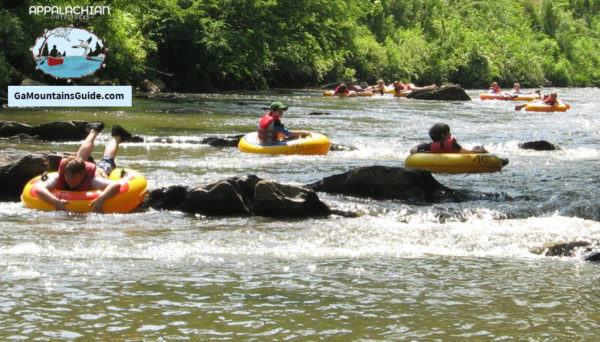 This group offers a "short but fun" tubing float on the Chestatee River, just outside of Dahlonega. The season runs from Memorial Day weekend through Labor Day weekend and the are open daily.
Tubing trips will take about 30 to 45 minutes, but if you would like more time to float, you may take the easy 10-minute nature trail back to the beginning to float it again. You can also return to the beginning with another shuttle. The cost is $6 per person for gear rental plus one shuttle ride (additional shuttles are $2 each). The minimum age for children is 4 years old. Dogs are also welcome.
No coolers allowed. No glass or alcholic beverages.
Trips are available on a first come, first serve basis, but reservations can be made for groups of 10+. Groups are available for discounted rates of 10% off for 10 or more people, and 20% off discount for 20 or more people.
CONTACT & VISIT
REVIEWS & SOCIAL MEDIA
Additional activities at Appalachian Outfitters include kayaking, canoeing, and camping.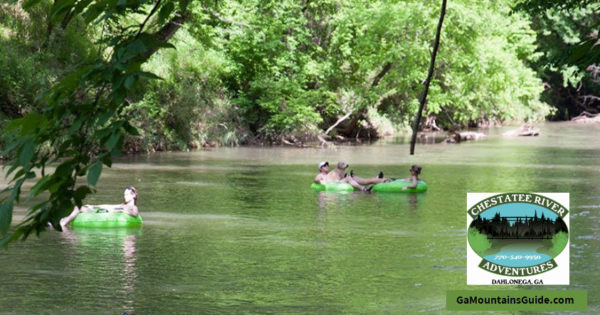 This float experience on the Chestatee River is one of the few places where you do not have the option of a shuttle bus to return to your start point. However, it is also the most affordable tube rental in the Georgia mountains, at only $5 per tube. Military and student discounts available.
The float lasts about 20 – 25 minutes, and then there is a 10 minute walk back to the shop (or you can re-enter the river at 1 of 3 places and float back down to the exit point). Available for children ages 4 and up. Reservations available and are suggested. Dogs are welcome.
CONTACT & VISIT
REVIEWS & SOCIAL MEDIA
Kayak rentals are also available.
Coosawattee River Tubing
The Coosawattee River is formed at the confluence of the Ellijay and Cartecay Rivers and then becomes Carter's Lake several miles downstream. This area is home to wildlife of all descriptions – deer, wild turkeys, raccoons, bears, eagles, hawks and more!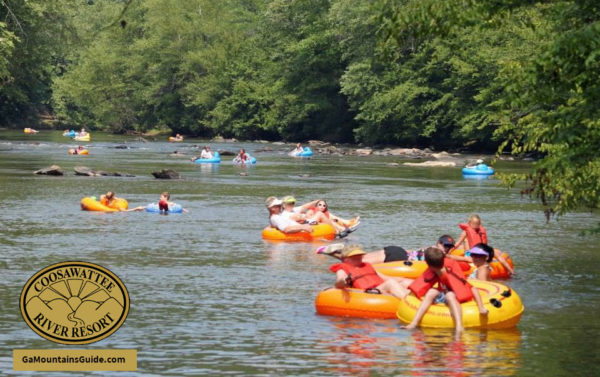 The Coosawattee River Tubing Company is located at adjacent to the Eagle Mountain entrance of Coosawattee River Resort in Ellijay, Georgia. The Coosawattee River Resort is a 5,500 + acre development consisting of more than 7,000 individual, privately owned lots divided by 12 miles of the beautiful Coosawattee River.
Tubing is available for $20 per person, and includes tube, life vest, and shuttle service to and from the river. Changing rooms are available. Group rates are available. Children must be at least 42 inches tall.
No coolers are allowed. No alcohol, glass containers, or other illegal substances allowed on any part of trip (shuttle, on the water, etc.). No pets are allowed on any part of the tubing trip.
Walk-ins are welcome upon trip availability. Reservations are strongly recommended. Has occasional events on the weekends with free outdoor concerts (keep an eye on the Facebook page for details).
CONTACT & VISIT
REVIEWS & SOCIAL MEDIA
You can also choose to spend the night or weekend on the grounds of Coosawattee River Resort for extra convience! Coosawattee River Resort boasts waterfront locations in a variety of 1-, 2-, or 3-bedroom cabins, A-frames, and cabin villas nestled in scenic locations. Stocked fishing pond for year round enjoyment.
Ellijay River Tubing
The beautiful waters of the Ellijay River run through the mountains in and around the city of Ellijay, merging with the Cartecay River to form the Coosawattee River. Kids and adults will both enjoy a tube trip down the river.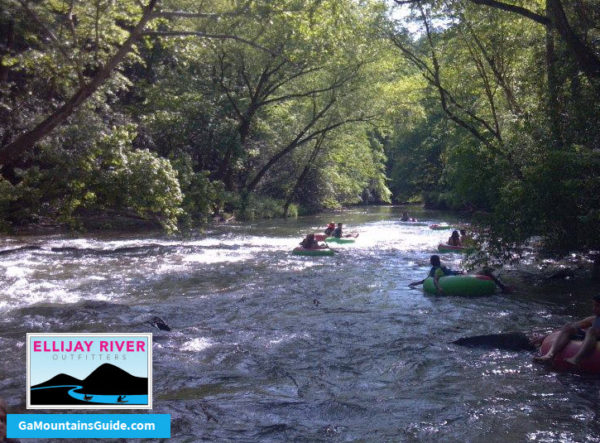 There are 2 options for floating with Ellijay River Outfitters. The 1 mile trip is slow lazy river floating, and while it is still highly recommended that you know how to swim for the short trip, it is required for the longer 3 mile trip. Coolers are welcome and can sit in a tube (link the tubes for easy access / to maintain control). No glass or alcohol is allowed on the river (county regulation). Tubes have a max weight limit of 250 pounds.
Prices are $11 for the 1 mile (approx 1 hour) trip and $21 for the 3 mile trip (approx 3 – 5 hours). Groups of 10+ are eligible for a discount with prepayment.
You can bring your own equipment and park for free, but note that there is a small fee for the shuttle service.
CONTACT & VISIT
REVIEWS & SOCIAL MEDIA
In addition to tubing, kayak rentals are also available. They also offer an excellent location for fishing (be sure to bring your fishing license with trout stamp)!
Toccoa River Tubing
The scenic Toccoa River is nestled in the beautiful North Georgia Mountains and is great for a relaxing day of floating on calm waters. These trips are ideal for families with smaller children (ages 5+) that are too young for whitewater rafting on the Ocoee. The Toccoa river is actually the headwaters of Tennessee's famous Ocoee River but changes its name to the Toccoa River when it crosses the line into Georgia.
The Toccoa River water flow is regulated by Tennessee Valley Authority. Water levels will vary depending on the water released and therefore there are no guarantees of the amount of time it will take to float the river on a tube or a kayak (float times vary based on the water flow each day). The depth of the water changes from place to place in the river and there may be small rapids and rocks along the way. Trips aresuitable for most people who can swim.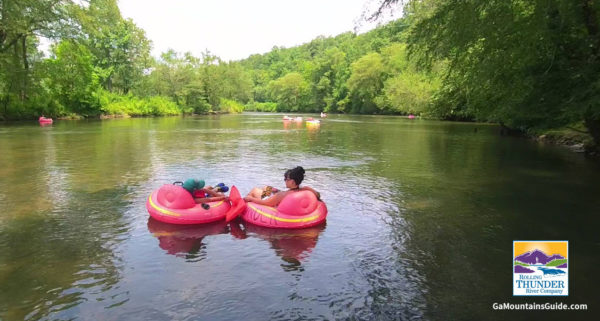 All equipment rentals include transportation and life jackets. The is a 1 mile trip is $8 per person and the 3 mile trip is $15 per person and estimated travel times are between 20 minutes – 1.5 hours for the shorter trip (depends on water released). If you also choose to take an Ocoee River rafting trip, then you'll receive 1.5 mile tubing trip for FREE!
Coolers are allowed, and you can even rent a tube for your cooler, however, no alcohol or glass containers are allowed on the river. No reservations are required except for groups of 15+. Wear proper fitting shoes — no flip flops are allowed.
Available to everyone ages 5 and up, but if the TVA releases water on any given day resulting in a swift water situation, they may increase the minimum age to 10 for their 3 mile trip.
CONTACT & VISIT
REVIEWS & SOCIAL MEDIA
Additional river activity rentals at Rolling Thunder River Company include kayaking, funyaking, and canoeing.
This floating adventure group is located in the Aska Adventure Area. Enjoy an easy 1 – 1.5 hour trip from Sandy Bottom to the take out at Shallowford Bridge. Tube rentals are $9 each (cash only) and you can float a 2nd time for $5. They will occasionally offer night floats during a full moon, so keep an eye on their facebook page for details. You may bring your own tubes and float the river on your own, but be sure that you have a life vest and have paid the parking fee.
No dogs are allowed. No glass containers allowed.
CONTACT & VISIT
REVIEWS & SOCIAL MEDIA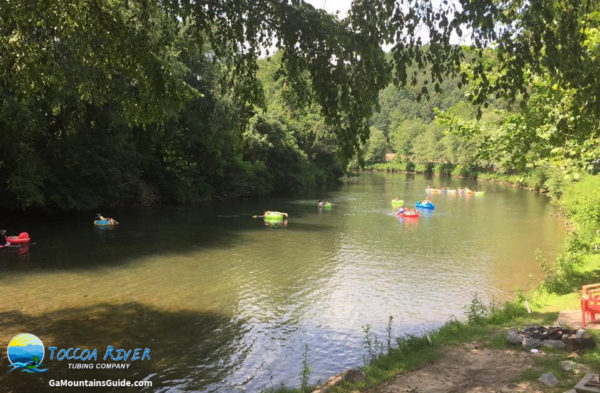 All equipment rentals include transportation and life jackets. The is a 1.5 mile trip is $10 per person, but if you'd like to do a "double take", you can return for a second float for only $5 more! The minimum age is 5. Coolers are allowed, and you can even rent a tube for your cooler, however, no alcohol or glass containers are allowed on the river. No reservations are required.
CONTACT & VISIT
REVIEWS & SOCIAL MEDIA
Additional river activity rentals at Toccoa Tubing include kayaking, funyaking, and canoeing.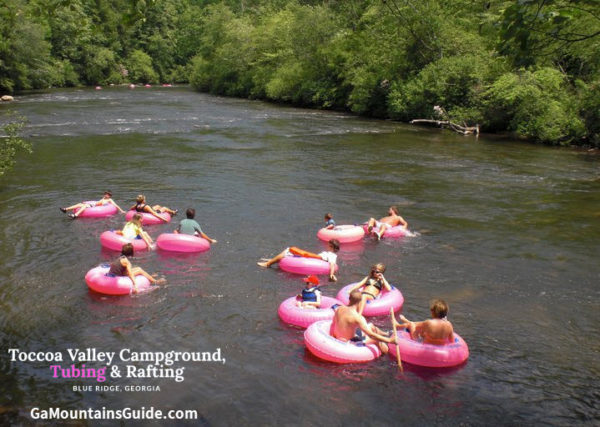 This location in Blue Ridge is $10 and includes rental of tube, transportation, and life jackets (note that the cost is still $10 if you bring your own personal tube). Group rates available for 25+ people (paid in advance). The pink tubes are equipped with a bottom and handles and come in 2 sizes (48" regular size and 54" larger size tubes). Both the entrance and exit points are owned by Toccoa Valley Campground. No alcohol is permitted.
CONTACT & VISIT
REVIEWS & SOCIAL MEDIA
In addition to camping options, other river activities / rentals at Toccoa Valley Campground include rafting and kayaking.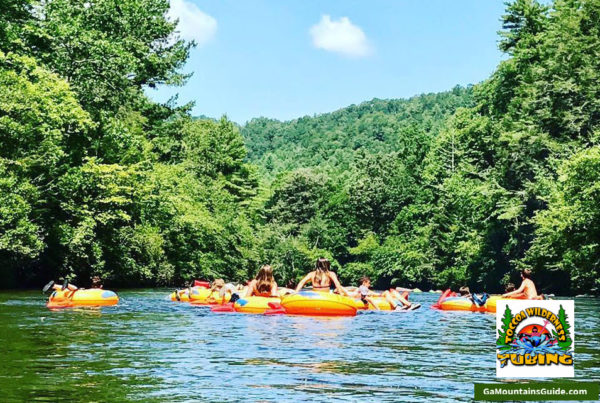 This 1 – 1.5 hour float is $10 per person (ages 4+) and includes life vest, tube, and shuttle. No reservations are required.
No coolers are allowed, but you may take a 32 oz. plastic drink container (NO alcohol). No dogs or fishing poles are allowed. Port-a-potty, changing rooms, and picnic tables are available.
CONTACT & VISIT
REVIEWS & SOCIAL MEDIA
Although this location doesn't have tubing in the name, they still offer the opportunity to do the longest tube trip in Blue Ridge (4.4 miles from Dial to Sandy Bottom). The tubes have a headrest and bottom, and rental includes life vest and shuttle. Prices are $10 per person and the drop offs start at 10 a.m.
Shuttle service is also available for anyone with their own gear. This service is from 9:00 a.m. through 4:00 p.m. and is $25 for 1 – 4 people. Call in advance to make reservations.
CONTACT & VISIT
REVIEWS & SOCIAL MEDIA
In addition to tubing, kayak rentals are also available.
Gear for Tubing on the Rivers in North Georgia Mountains
When you choose to use a rental service for tubing, then you'll be provided with a float / tube, a life jacket (children 12 and under are required to wear them), and a shuttle ride to either the start or end point. However, you'll also need to make sure that you have the right gear for your party to have the most enjoyable experience.
Clothing
Quick Dry Clothing
Clothing that dries quickly will help to keep you much more comfortable during your tubing trip and while getting back to the changing area. Definitely avoid fabrics that are heavy when they are wet (like denim and jeans) and opt for lightweight options that will dry off fast.

Water Shoes
Many of the rivers have rocky bottoms, and there may be other hazards at the bottom like old fishing hooks. Be on the safe side and wear a pair of water shoes to help with traction on slippery surfaces and to keep your feet protected.

Hats
The summer sun in Georgia can be brutal, and the water may reflect and enhance the effects. Take along a good hat for protection from the sun on your skin and eyes.

Polarized Sunglasses
A great pair of polarized sunglasses will reduce glare and allow you to see crisper detail in outdoor environments, but this is very pronounced when you're looking into the water. Take along a pair of polarized glasses and see how many fish you can find underwater that are swimming along beside you while you float.

Sunglass / Eyeglass Straps
Sunglasses feel like something you'll need for an afternoon on the water, but you don't want to have an accident where they end up getting lost. Consider using a sunglass strap or shades with rubber grips that may do a better job of staying on your head.

Safety Gear
Life Jackets / Personal Floatation Devices
Although adults are not required to wear a life vest when floating on these rivers, it is still a good idea. Children 12 and under are required to wear life vests, so make sure to have a US Coast Guard approved device for everyone in your group. 
Sunscreen
Make sure to protect your skin before heading out on the water. Apply before the start of your trip and consider taking extra for reapplying if you are allowed to carry more on your trip. Look for waterproof sunscreens as you will certainly be getting wet!

Fun Extras for Your Tubing Trip
Waterproof Smartphone Case
These cases allow you to take your phone with you and use it while it's still in the case… You can even take photos underwater! The lanyard neck strap will help you keep track it safe from slipping out of your hand.

Waterproof Dry Bag
A great way to carry small towels or other items you'll want to keep dry.

Water Bottles
Some places are very strict about what they allow to be taken on the water, but most will allow at least a 32 ounce water bottle that should allow you to carry enough water / gatorade to stay hydrated during your trip.

Coolers
A handful of places do allow coolers on the float trips and will even let you rent a tube that is specifically for your cooler to float. Pack enough for everyone and enjoy the day with your own cooler full of goodies (make sure to obey all outfitter rules and local laws).

Other Tips for a Great Tubing Trip
Remember to take the proper required safety gear and if you are doing a trip with your own gear, then always have a buddy to go with you and let someone know where you are. If you are floating on a section of river that is subject to upstream water releases, be sure to check in advance so that you can anticipate any changes in the water. Be very careful about where you jump in to the water. Diving in head first can cause serious injury so it's best to avoid this. Be aware that wet rocks both above and below the surface are very slippery. Use caution when walking across any rocks.
***
Hopefully you've found a good option for your group to try tubing / floating on one of the scenic rivers in the North Georgia mountains. It is one of the most enjoyable ways to spend the afternoon on a hot summer day, as it is relaxing, refreshing, and most of all, a whole lot of fun!