Did you know that the Northern part of Georgia was home to one of the earliest and largest gold rushes?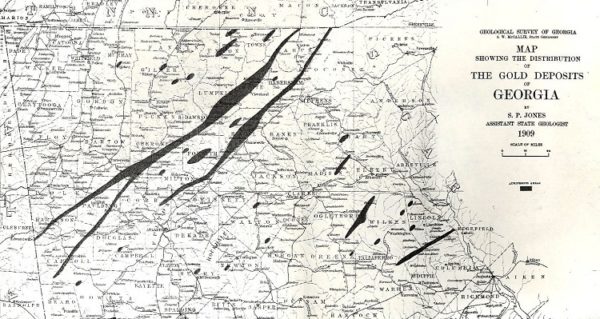 American Indians knew of the gold in the Appalachian Mountains long before the first Spanish Conquistadors set foot on the new lands. Miners traveled to the gold fields in the Blue Ridge Mountains until 1733, then for nearly 100 years they sat unmined. There are a few different stories about who made the first discovery that led to the 1829 gold rush near Dahlonega. However, there is no documented evidence of gold until an article appeared on August 1, 1829 in the Georgia Jounal out of Milledgeville:
GOLD.—A gentleman of the first respectability in Habersham County, writes us thus under date of 22d July: "Two gold mines have just been discovered in this county, and preparations are making to bring these hidden treasures of the earth to use." So it appears that what we long anticipated has come to pass at last, namely, that the gold region of North and South Carolina, would be found to extend into Georgia.
By the Spring of 1830, there were four thousand miners working in what was then known as the Cherokee Nation along Yahoola Creek alone. This become known as the Great Intrusion. Gold rush towns set up quickly in north Georgia, and the Lumpkin county seat called Licklog, became known as Dahlonega, for the Cherokee word "talonega" meaning either gold or yellow.
While in his nineties, Benjamin Parks recalled the scene in the 
Atlanta Constitution
(July 15, 1894):
The news got abroad, and such excitement you never saw. It seemed within a few days as if the whole world must have heard of it, for men came from every state I had ever heard of. They came afoot, on horseback and in wagons, acting more like crazy men than anything else. All the way from where Dahlonega now stands to Nuckollsville [Auraria] there were men panning out of the branches and making holes in the hillsides.
The town suffered from a limited ciculation of currency, and the miners needed a local mint to have their gold assayed and exchanged for coins. Congress soon authorized the federal Branch Mint at Dahlonega which went into mint in 1838.
The mining industry in north Georgia started to suffer with the finding of gold in California in 1949, and many miners left to go west. The mining industry suffered again during the Civil War, and in 1861 the Dahlonega Mint closed after having produced almost 1.5 million gold coins worth more than $6 million!
Today the mining industry in Georgia is mostly limited to the history books and a few places where you can tour the mines and do gold and gem panning yourself. A great introduction to the industry is at the Dahlonega Gold Museum, located in the middle of the Dahlonega Town Square.
PAN FOR GOLD & GEM MINING
Enjoy a fun family activity and potentially strike it rich!
Recreational panning for gold in most stream beds in the National Forests is allowed, as long as significant stream disturbance does not occur and when only a small hand shovel or trowel and a pan are used. Note that in-stream sluices and suction dredges are NOT allowed. Keep in mind that usually no more than a few cents worth of gold can be panned in an hour; however, there's always a chance of finding a stray nugget or odd pocket of finer gold.
You can try these supplies to pan for gold at approved sites:

There are also commerical / tourist mining and panning activities that are open year round. These facilities will provide all the supplies you need while in their mines. A nice plus is that these activities are ideal for the hottest days of the summer, as the mines are located underground where you will stay cool!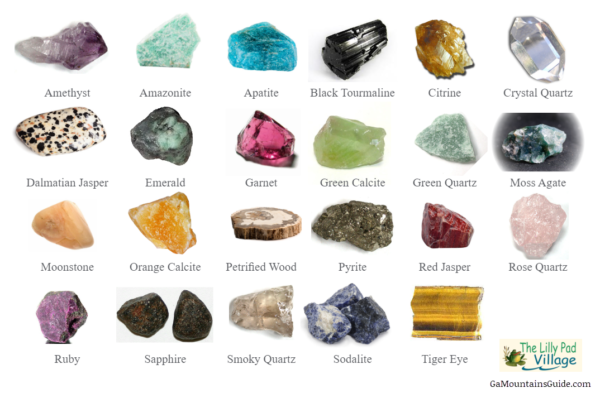 Cohutta Cove Mini Golf, 64 Dunbarton Farm Road, Blue Ridge, GA

Check for occasional discounts via GROUPON (rated 4.2 / 10 Groupon reviews)

The Lilly Pad Village Miniature Golf and Gem Mining, 24 Adelaide Drive, Blue Ridge, GA
Consolidated Gold Mine, 185 Consolidated Gold Mine Road, Dahlonega, GA
Crisson Gold Mine, 2736 Morrison Moore Pkwy E, Dahlonega, GA
Gold 'n Gem Grubbin', 75 Gold Nugget Lane, Cleveland, GA
These books and charts have even more information on the gems you may find in these mines in the North Georgia mountains!