Corn Mazes in North Georgia
The Fall season is a great time to be outside in the North Georgia mountains. Take advantage of the great weather and test your problem-solving and navigation skills with a visit to one of the Corn Mazes in North Georgia.
These seasonal attractions are only open for a limited time which generally runs from around Labor Day through Thanksgiving weekend. The attractions are fun outings for families, date night, or a friendly competition to see which of your friends can get through the corn maze with the fastest time.
Keep in mind that the corn mazes will be more challenging early in the season when the corn stalks are fuller and greener. The corn stalks will thin out a bit over time, allowing guests the ability to see through them somewhat for a slightly easier maze.
Continue reading to find all your options for navigating through a corn maze in Georgia's scenic Blue Ridge mountains.
Corn Mazes in the North Georgia Mountains
There are a lot of great places to try out corn mazes in North Georgia. Check out these options that include haunted mazes, onsite hayrides, and more!
Uncle Shuck's includes a number of fun attractions in addition to their large corn maze (a 15-acre field of corn with ~4 miles of twisting and turning trails). Other fun activities for kids and adults include a tire mountain to climb, picking sunflowers, carving pumpkins, shooting a corn cannon, kiddie maze, wagon ride, roasting marshmallows, watching the goats on their "goat walks", a jumpy pad, plus great food! Voted Favorite Corn Maze in Georgia in 2015.
For those wanting the extra adventure of a walk through Haunted Corn Maze, visit the Uncle Shuck's "The Dark Rows" that start at dusk on Friday and Saturday nights in October. Ages 12 and under must be accompanied by a parent. No flashlights allowed during these tours!
No alcohol or smoking allowed on the property. No pets allowed unless it is a service animal with proper documentation.
Uncle Shuck's Contact Info
Phone: +1 (770) 772-6223
Address: 125 Bannister Rd, Dawsonville, GA
Website: uncleshucks.com
Uncle Shuck's Hours
This business is open seasonally and is usually open from mid-September through mid-November.
Open weekends in September & November 

Friday 4:00 p.m. – 10:00 p.m.
Saturday 10:00 a.m. – 10:00 p.m.
Sunday 10:00 a.m. – 6:00 p.m.

Open daily in October

Sunday – Thursday 10:00 a.m. – 6:00 p.m.
Friday – Saturday 10:00 a.m. – 10:00 p.m.
Uncle Shuck's Reviews
Also features the south's first Apple Tree Maze (open on select weekends)!
Note that there are NO PETS ALLOWED at Hillcrest Orchards. COVID-19 policies include temperature checks prior to entry and face masks required for indoor shopping and cow milking.
Hillcrest Orchards Contact Info
Hillcrest Orchards is open seasonally during the months of September, October, and November.
Hillcrest Orchards Reviews
The Blairsville Corn Maze did not open during 2020 – check back again for 2021 updates. The Blairsville Corn Maze posts updates and special events on their Facebook page including times for face painting, pumpkin carving/painting, a fall festival, and more.
Your admission ticket is a $10 donation to raise money for the local charity Change in our World, whose mission is to empower the local communities to combat suicide through creating relationships, finding wholeness, and strengthening others.
Blairsville Corn Maze Contact Info
This business is seasonal and operates during the fall.
Blairsville Corn Maze Reviews
Facebook: @blairsvillecornmaze 925+ Likes
Hillside Orchard (Lakemont – No CORN MAZE in 2020)
Due to being unable to cut the maze "due to labor and rain", there will not be a corn maze at Hillside Orchard Farms in 2020. The wonderful field of corn will help feed the farm animals during the winter months. Look for a special 2021 maze to be better than ever!
Pick your own blackberries are available in June. Pick your own apples available in September (Check Facebook for picking availability and dates).
Other activities for kids include a playground, barnyard, greenhouse, giant sandbox, and antique equipment. The playground is free for kids (under age 10). Visit the animals out at the farm or take the walk around the farm (½ mile stroll by Stonewall Creek).
Hillside Orchard Contact Info
The CORN MAZE remained closed for 2020, but other activities were open.
Hillside Orchard Reviews
Facebook: @HillsideOrchardFarms Rated 4.6 (75+ Reviews), 6,410+ Likes
TripAdvisor: Rated 4.5 (55+ TripAdvisor reviews)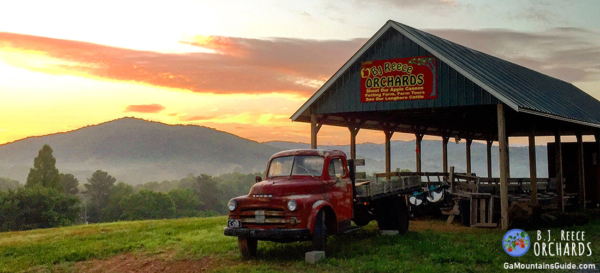 This Ellijay U-pick apple farm opens for the season during late August and runs through late October (with selected attractions open through late December). Read the COVID-19 policies before arrival to make sure you are comfortable with the policies at Reece Orchards. Note that there is NO CORN MAZE for 2020.
PET FRIENDLY: Well-mannered dogs on a leash are permitted in the orchards (note that dogs are not allowed in the market).
BJ Reece Orchards Contact Info
Hours are seasonal with expanded hours on weekends. The U-Pick schedule is posted online with fruit varieties available.
BJ Reece Orchards Reviews
How to Enjoy a Corn Maze
The following ideas can help you to enjoy your time in whichever corn maze you choose.
Tips for Going Through Corn Mazes
Each corn maze is a litte different and offers an exciting way to test your navigational skills. Use these tips to make sure you have the best time on your journey!
Wear comfortable clothing that is appropriate for local outdoor weather conditions – as Fall weather can vary from hot and dry to cold and wet, you want to make sure you dress for the appropriate weather of the day you'll be wandering through the maze
Wear shoes that you don't mind getting dirty – keep in mind that you will be walking through a cornfield, and if it has rained recently, could be muddy
Take a bottle of water – some of the local corn mazes have about 4 miles of trails so be sure that each person carries a bottle of water to stay hydrated
Get a corn maze map before you go into the maze – this could help you find your way around the labyrinth of trail options
Time yourself – if your group splits up consider having a friendly competition to see who can get through the maze the fastest
Make note of landmarks – there may be a few distinct checkpoints along the way to help you stay oriented inside the maze
Use the bathroom before starting the maze – you may be walking for a while so make sure you visit the restroom before
What to Take Through Corn Maze
In addition to keeping the tips above in mind, it may be helpful to include these items on your trip to the corn maze.

***
Which of these mazes looks the most interesting to you? A daytime trip, night maze with flashlights, or haunted maze with only moonlight to guide you?