Take advantage of the natural landscape by visiting lakes, rivers, and parks to enjoy the mountains all year round!
National Parks, Forests, & Historic Sites in North Georgia
These amazing places are a big part of what makes the North Georgia mountains so special. Visit these icons that are well known around the world.
North Georgia State Parks & Historic Sites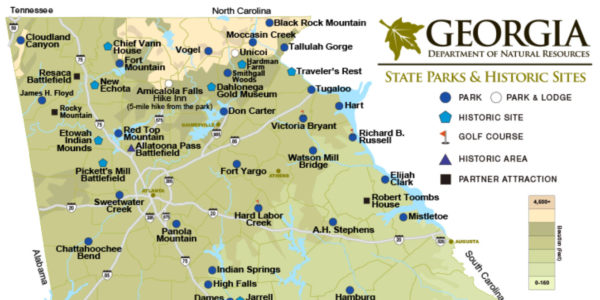 Requires a Georgia State Park ParkPass (Single Visit $5 / Annual $50). Georgia residents can check with their local library for loaner ParkPasses (these passes can be checked out like books).
Other Great Parks & Gardens in the Georgia Mountains
Hamilton Rhododendron Gardens at Lake Chatuge

Bloom season begins in early April and continues well into May
Open year round and offers seasonal views of native plants and trees
Picnic tables are first-come, first-serve (available under the Paris Pavilion)
Open 8:00 a.m. – 8:00 p.m. daily
$2 person / $5 family
96 Pavilion Road, Hiawassee, GA
706-970-0011
North Georgia Lakes
There are beautiful lakes to enjoy in the North Georgia mountains including larger lakes like Lake Blue Ridge, Lake Nottely, and Lake Chatuge, and quieter lakes like Lake Burton and Lake Rabun. A few of the lakes are "working lakes" and have a major drawdown of water in the winter.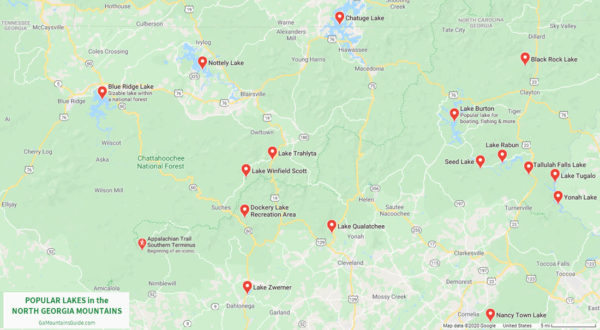 Boating, Fishing, Swimming
These North Georgia mountain lakes are summertime favorites and offer a beautiful space to enjoy both the water and the mountain views. Stick to the simple joys of fishing, swimming, or boating, or try one of the more unique activities like flyboarding or riding a seaplane. Rent a boat for a fun excursion on the water or rent a cabin WITH a boat for a vacation full of fun on the lake!
Blue Ridge Lake

Winter drawdown – water levels drop approx 22 feet from Summer to Winter

Lake Burton

62 miles of shoreline
Dam is 128 feet high with a span of 1,100 feet
Moccasin Creek State Park located on West side of the lake
Family Fishing Pond (8 a.m. – 6 p.m.) on Moccasin Creek (next to Lake Burton)
Marinas include Anchorage Boat Dock and LaPrade's Marina
Visit Jones Bridge Park on the North side of the lake for great views (no lake access)

Chatuge Lake

In years with normal rainfall, the water level in Chatuge Reservoir varies about 10 feet from Summer to Winter
132 miles of shoreline plus campgrounds, picnic tables, & more
Public boat ramps available
Free admission to Towns County Beach with swimming beach
Dam is 150 feet high and stretches 3,336 feet across the Hiwassee River

Lake Nottely

Winter drawdown – water levels drop approx 20 feet from Summer to Winter

Lake Rabun

Drawdown once every 3 years – November and December 2020 lake levels will be lowered
North Georgia Rivers
Fishing, Canoeing, Kayaking, Rafting, Tubing
Chattahoochee
Chattooga
Nantahala
Nottely
Toccoa
Tallulah