7025 South Main Street, Helen, GA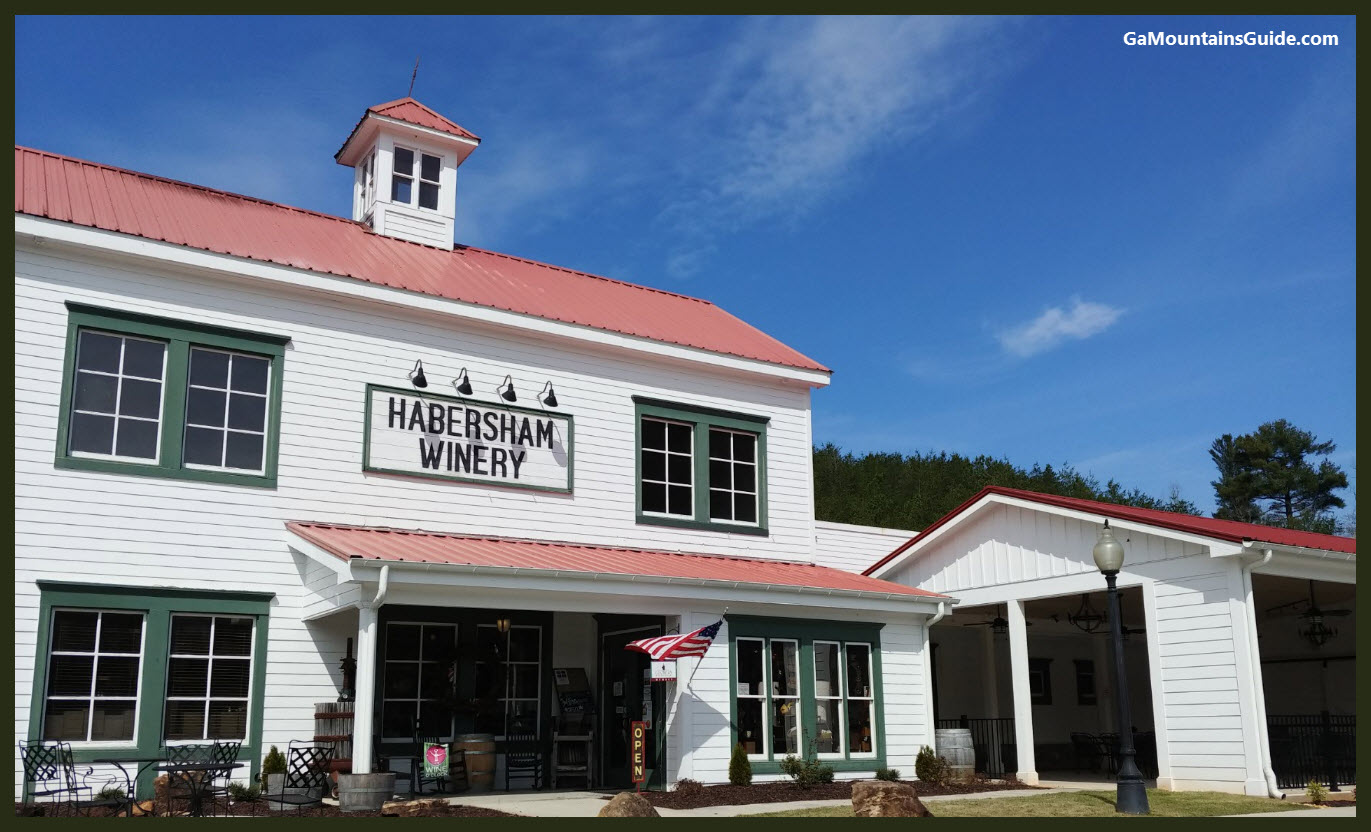 Conveniently located on the main road between Helen and Sautee lies the Habersham Winery. One of the oldest and largest Georgia wineries, Habersham has been producing wines since 1983. There are no vineyards to roam at this tasting room, but you will be able to sample reds, whites, and blends. The tasting room is located inside the main building housing a gift shop with art, pottery, and wine accessories. Choose to sample your wines inside, or venture out to their covered patio. Two flavors of wine slushies are available year-round, but they go especially well with a hot summer day!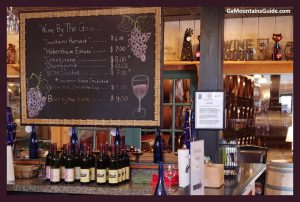 Tasting Room Hours 
Tasting flights are $7.50 for 5 wines + souvenir glass

MON – SAT: 10am – 6pm
SUN: 12:30pm – 6pm

Reservations suggested for groups of 10+
Wines may be purchased by the glass ($6 – $10)
Bottles of beer available ($4.50)
PRO TIP: Chocolate lovers should try their Wine in a Chocolate Cup ($5)
EVENT: Annual Wine Fest 
26th Annual Wine Fest will be held on Saturday, May 5, 2018
10+ participating wineries, gourmet food samples, food vendors
Live music, artists
Tickets $30 (advance) / $35 (at gate) includes:

15 tasting tickets (tastes of wine are 1, 2, or 3 tickets)
souvenir wine glass

Additional tasting tickets in 5 packs for $5
$10 for Non-Drinkers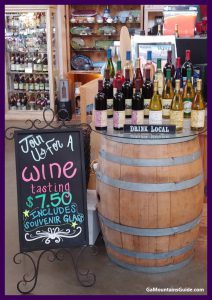 Wines (750ml bottle prices 3/2018)
HABERSHAM ESTATE ($7 / glass)
$14 CHALET WHITE – Blend of Chardonnay and white Riesling
$14 CHEROKEE ROSE – Medium dry and fruity
$16 GA. HABERSHAM CABERNET SAUVIGNON 2014 – lighter style, yet rich from smooth oak
$16 GA HABERSHAM MERLOT 2012 – Cherry, hints of raspberry, soft oak finish (from Stonepile / Mossy Creek / Blackstock Vineyards)
$16 GEWÜRZTRAMINER 2015 – Medium dry, aromatic white wine with hint of peach and an apricot finish offers
$16 NV HABERSHAM CHARDONNAY – Stainless steel fermentation
$14 SCARLETT – Red & white dry blend Chambourcin, Cabernet Sauvignon, Chardonnay, Vidal, and Riesling
$14 SIGNET – blend of Vidal, Chenin Blanc, and Chardonel
$16 TRAMINETTE 2016 – Medium dry white with a crisp finish
SOUTHERN HARVEST ($6 / glass)
Sweet wines from Southern Muscadine grapes
$13 BELLE BLUSH – Sweet, fruity, blend of Muscadine and Chambourcin
$13 GA WHITE MUSCADINE – Sweet white that tastes like "adult grape juice"
$13 GRANNY'S ARBOR – Sweet blend rich with aromas and taste of blackberries
$13 HERITAGE RED – Sweet red wine, richly fruity, not heavy. Over 50% Muscadine (serve chilled)
$13 PEACH TREAT – Like biting into a fresh peach
CREEKSTONE ($8 / glass)
$13 AMERICAN VIOGNIER 2015 – Crisp white wine with notes of peach, apple, & honeysuckle
$22 GA. CREEKSTONE CHARDONNAY 2016 – Apple, ripe pear, honey, and a hint of oak with a rich, buttery finish
$30 GA. CREEKSTONE RESERVE CHARDONNAY 2016 – Rich, creamy with hints of butterscotch and smoky oak
$22 GA. CREEKSTONE CABERNET SAUVIGNON – Rich black cherry, hint of blueberry, smoky Hungarian oak (Georgia grown at Mossy Creek / Stonepile vineyards)
$20 GA. CREEKSTONE MERLOT – Oaky, with hints of vanilla and black cherry
$30 GA. CHAMBOURCIN 2016 – Big, sweet, port-like, desert wine fortified to 19.5% alcohol ($10 / glass)
Winery Discounts
10% Off Half Case (6 – 750ml bottles)
15% Off 1-2 Cases (12-24 – 750ml bottles)
20% Off 3+ Cases (36+ – 750ml bottles)
CONTACT & VISIT: Habersham Vineyards
PHONE: +1 (706) 878-9463
ADDRESS: 7025 South Main Street, Helen, GA
GPS COORDINATES: (34.6892835,-83.712137999)
WEBSITE: HabershamWinery.com
REVIEWS & SOCIAL MEDIA:
Visit the Vineyard & Wineries page to see an interactive Map of the Georgia Mountain Vineyards.