Ziplining Canopy Tours in the Georgia Mountains
When the weather is great and you're ready for a fast and fun adventure in the treetops, then consider a ziplining canopy tour in the Georgia mountains. This fun activity can include most of the family and will be one of the most memorable moments of your trip!
There are lots of options for canopy tours and ziplining in North Georgia. Some of these include zipping over wide-open spaces or crystal clear lakes, while others focus on letting you zip through the trees. Choose your favorite and get ready for these exciting rides!
For great deals, check LivingSocial for specials and discounted canopy tours in the Georgia mountains!
Quick Article Navigation:
Ziplines and Canopy Tours in the Georgia Mountains
Be sure to check the weather and dress appropriately for all activities (wear closed-toe shoes for your canopy tours).
Amicalola Falls State Park is one of the most beautiful parks in North Georgia and has been featured in posts about hiking, lodges, and Georgia's natural beauty. It has the highest waterfall (729′) in the Eastern United States and happens to be one of the most affordable places for ziplining! An added bonus for this location is FREE PHOTOS — if you provide them with your email address, they will send you all the photos taken on your adventure!
Prices start at $29 per person for a beginner course and go up to $99 per person for the "Level 2 Zipline Canopy Tour". Enjoy being as high as 250 feet in the air while exploring areas of Amicalola that are not available to hikers!
Remember to check Living Social for deals on stays and other park activities, or check Reservations.com for rooms and rates available.
Contact Amicalola Zipline
Call: +1 (706) 265-1233
Address: 418 Amicalola Falls Lodge Rd, Dawsonville, Georgia
Website: amicalolazipline.com
Amicalola Zipline Reviews
Cool River Adventure ziplines include two aerial bridges and four lines that zip over the Chattahoochee River. Tours are 1-1.5 hours and utilize an automatic braking system (no gloves required).
The zipline is $35 per person — discounts are available when booking with one of the other activities like the climbing wall or the aerial adventure courses.
Contact Cool River Adventures
Cool River Adventures Reviews
Nacoochee Adventures includes ziplines, a challenge course, and a unique giant swing! Prices range from $30 – $99 per person, depending on the type of zipline tour you want to do. Play zip line corn hole on the last line for the chance to win a free t-shirt. Plus, you can add one of the additional activities to your ziplining for a discount!
Reservations are highly recommended.
Contact Nacoochee Adventures
Nacoochee Adventures Reviews
In addition to the activities at Nacoochee Adventures, you can enjoy cabins and unique lodging options (like staying in a covered wagon) or in one of their two Rustic Treehouse Rentals!
Two different zipline package options available with either the Helen's Premier Zipline Tour (from $79.95) to the Sunset Zipline Tour (from $109.95).
These zipline tours are fun for the whole family! No tall towers, no swinging bridges, no ladders to climb and jump off of. We gain all elevation in our vehicle so there's no hiking, climbing, or towers. Everyone zips together! Hung throughout the trees, our nine ziplines total 7,000 linear feet, making this a great family adventure for everyone.
In addition to ziplines, Sunburst Adventures also features other activities like ATV rides, e-bikes, horseback riding, and boating! Booking available online.
Contact Sunburst Adventures
Call: +1 (706) 947-7433
Address: 251 Sunburst Lane, Clarkesville, GA
Website: sunburststables.com
Sunburst Adventures Reviews
Enjoy the serenity of one of North Georgia's State Parks with a trip down a zipline at Unicoi State Park. Prices range from $39 – $99 per person with an additional option to rent a GoPro for $20. Enjoy beautiful views in this state park with a zipline that goes right over Unicoi Lake! An added bonus of this affordable park is FREE PHOTOS — if you provide them with your email address they will send you all the photos taken on your adventure!
Unicoi State Park is a beautiful state park in North Georgia and, in addition to ziplining, includes an archery & air gun range, GPS scavenger hunt, paddleboarding, mountain biking, fly fishing, and kayaking. It has been featured in posts about lodges and Georgia's natural beauty.
Remember to check LivingSocial for deals on stays and other park activities.
Contact Unicoi Zipline
Call: +1 (706) 878-4740
Address: 1788 Highway 356, Helen, GA
Website: unicoizipline.com
Unicoi Zipline Reviews
This park includes canopy tours, an aerial challenge course, and much more! An online zipline calendar makes booking easy, but also note that they may be able to accommodate requests that aren't included on the calendar (call to inquire). No experience necessary, but participants must be at least 10 years of age and between the weight of 70 to 250 pounds.
Choose from a 1 or 2-hour tour:
One-Hour tour ($49.99 per ticket): includes 7 zips ranging from 150 to 550 feet for a total of half a mile of ziplining
Two-Hour tour ($89.99 per ticket): includes13 zips ranging from 150 feet to 1000 feet, 3 sky bridges, and ziplining through treetops ranging from 25 to 75 feet high
Group rates available for 10 or more people on select days (discounts not available on Saturdays, during July, holidays, or holiday weekends). Occasional specials are made available via their website. Discounts are also available for combination tickets that combine zipline canopy tours with rafting, climbing, or the adventure course.
Contact Zipline Canopy Tours
Call: +1 (800) 251-4800
Address: 891 Old Cashes Valley Road, Blue Ridge, GA
Website: zipblueridge.com
Zipline Canopy Tours Reviews
Seasonal Ziplines in North Georgia
These places don't have a zipline as their main attraction but do offer a way to add a quick zip to the other fun activities they offer!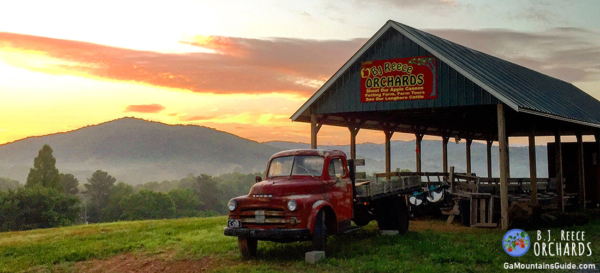 This Ellijay orchard is open for 2019 from July 27 – December 22. Enjoy family-friendly activities including hayrides, apple cannons, pony rides, petting farm, corn maze, zipline, lots of fresh seasonal produce (u-pick available on select dates – view calendar for details), and a delicious bakery filled with fried pies, donuts, and breads!
Dogs (on leash) are permitted in the orchards.
Contact BJ Reece Orchards
Open for harvest season only – call for details.
Call: +1 (706) 276-3048
Address: 9696 Highway 52 E, Ellijay, GA
Website: reeceorchards.com
BJ Reece Orchards Reviews
Ziplines and Canopy Tours near North Georgia
These zipline options aren't technically in North Georgia, but they are pretty close. You may find that these options are more conveniently located to your other daily outings, so be sure to check them out if you are in the area!
Just across the state line into North Carolina is Highlands Aerial Park, which aims to combine the alpine adventure courses of Europe with the rain forest canopy tours of Central America. Enjoy long-range mountain views from 3,400′ elevation at this ecologically inspired family adventure park.
Contact Highlands Aerial Park
Call: +1 (828) 357-4678
Address: 9625 Dillard Road, Scaly Mountain, NC
Experience the excitement and beauty of sailing through the air and the trees in Western North Carolina! 13 zips and 8 sky bridges combine for over 1/2 mile of high-flying fun on this adventure activity! Available for kids 8 and up, plus there is a separate "Kidzip" for kids ages 4 – 12!
Discounts are available when you book 2 or more activities.
Contact Nantahala Ziplining
Call: +1 (800) 451-9972
Address: 10345 US Hwy. 19/74, West Bryson City, NC
The Ocoee Canopy Tour takes you through exciting zips and over bridges along the edge of the Cherokee National Forest. Treetop towers overlook the Cherokee Mountains and National Forest near the Ocoee River. Combo trips are offers that include lodging, mountain biking, and tubing or rafting.
Rates start at $77 per person.
Contact Ocoee Ziplines and Canopy Tour
Tips for Ziplining in the Ga Mountains
Wear closed-toe shoes
Choose well-fitted comfortable clothing
Empty your pockets
Secure all belongings (sunglasses, keys, etc.)
Don't leave anything that may flap in the wind and get uncomfortable (hair, belt, bag, etc.)
Adhere to all rules like weight limits
***
What are your favorites and experiences with these canopy tours? Are you ready for adventure??