110 Rathgeb Trail, Jasper, GA
A short drive from downtown Jasper is Sharp Mountain Vineyards, with a cozy tasting room and a covered outdoor pavilion that overlooks the vineyard and it's namesake, Sharp Mountain. They have been growing grapes since 1995 and grow, produce, & bottle all of their own wines in the old-world fashion. You can sample a variety of Red, White and Sweet wines, including Pinot Gris, Gewurztraminer, Pinot Noir, Merlot, and Cabernet Sauvignon.
Bring your own picnic items and use the outdoor grill and fire pit. Indoor and outdoor seating is available, and dogs and kids are welcome at Sharp Mountain Vineyards.
HOURS
MON: CLOSED
TUE: CLOSED
WED: CLOSED
THU: CLOSED
FRI: 12:00pm – 6:00pm
SAT: 12:00pm – 6:00pm
SUN: 12:30pm – 5:00pm
Live music on Saturdays

2:00pm – 5:00pm
May – October

Dogs and kids are welcome
Private tastings by appointment
Closed Thanksgiving & Christmas
COST
$10 Wine tastings
$5 – $9 Glasses of Wine
$13 – $29 Bottles of Wine
$3.50 Hard cider ($12.50 for 4 pack)
10% Case discount
Also be sure to check Groupon and LivingSocial for special limited-time offers on wine tastings that include a souvenir glass to keep!
WEDDINGS
Vineyard Wedding Venue
Also hosts rehearsals and other special events
EVENTS
Wine Highway Week
Harvest Season & Picking

Annual "Grape Picking Sign-up" comes out in July
Everyone is welcome – grapes are picked every Saturday & Sunday until harvest is complete
Picking starts at daybreak, and by lunchtime the clusters are destemmed and crushed
Lunch is provided in the outdoor pavilion, new wine is tasted, & new friends are made

Customer Appreciation Weekend

Event to thank friends and guests for support and patronage as the year comes to an end
Homemade soup by the fire stove, gourmet food samples, complimentary wine tours
Drawings for free wine tastings, wine, & merchandise
Happens during late December during business hours (check calendar for dates)

See online calendar for updates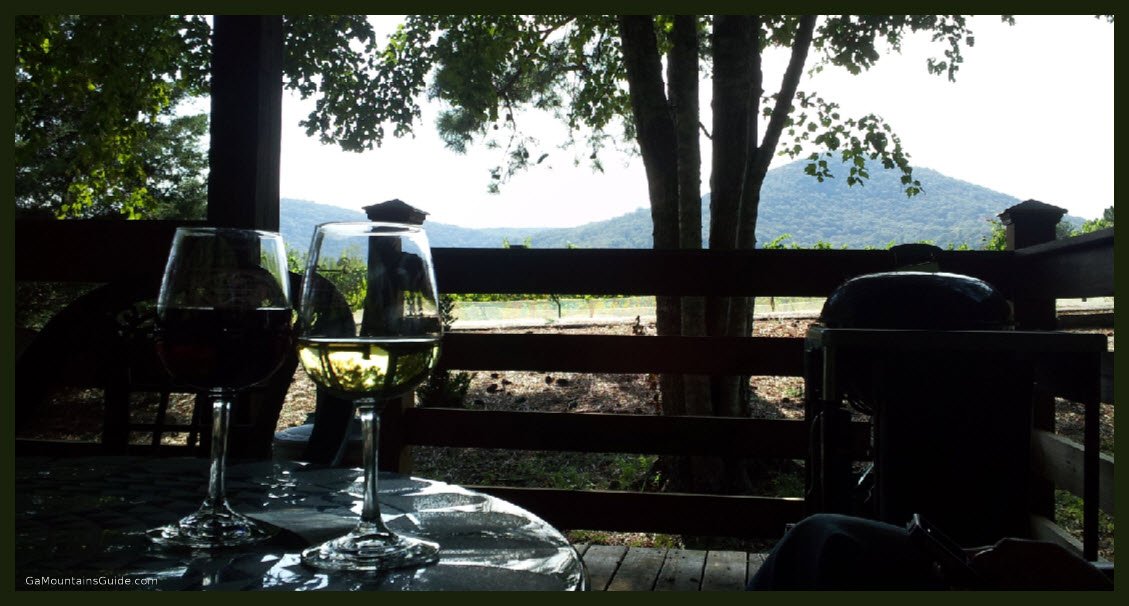 CONTACT & VISIT: Sharp Mountain Vineyards
MAIN: +1 (770) 735-1210
ADDRESS: 110 Rathgeb Trail, Jasper, GA
GPS COORDINATES: (34.441686,-84.488182)
WEBSITE: SharpMountainVineyards.com
REVIEWS & SOCIAL MEDIA
Visit the Vineyard & Wineries page for a Map of the vineyard options available in the Georgia Mountains!