The state of Georgia has a rich and colorful history dating back thousands of years! Make a point to learn more about this heritage including the Native American tribes, American settlers, and even the country's first gold rush!
These sites in the Georgia mountains are worth a visit to help you fully understand the depth of the history in the area.
Historic Sites in the Georgia Mountains
These historic sites have been broken out by town to help you to make sure you find any points of interest in the town you are visiting. In addition to these sites, there are many more sites with historic significance that are marked simply with roadside markers. Use this interactive map to explore these roadside historical markers (to easily see the markers listed in the mountains, select the "Region" dropdown menu and select "Mountain" from the list).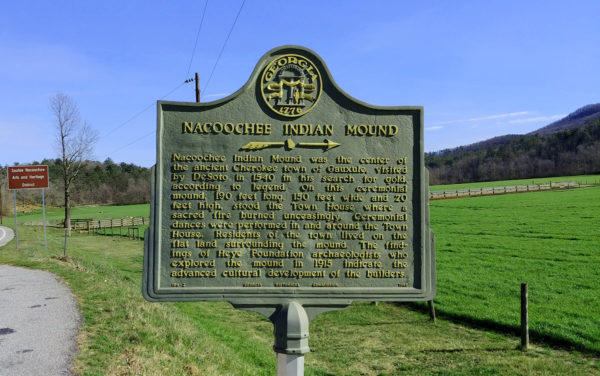 Historic Sites in Blairsville, GA
The Track Rock Gap rock art and stone landscape sites on the Chattahoochee National Forest were created by Creek and Cherokee people beginning more than 1,000 years ago. Track Rock Gap is open to public visitation and no fee is charged.
Historic Sites in Calhoun, GA
1211 Chatsworth Highway NE, Calhoun, GA
from gastateparks.org:
New Echota is one of the most significant Cherokee Indian sites in the nation and was where the tragic "Trail of Tears" officially began. In 1825, the Cherokee national legislature established a capital called New Echota at the headwaters of the Oostanaula River. During its short history, New Echota was the site of the first Indian language newspaper office, a court case which carried to the U.S. Supreme Court, one of the earliest experiments in national self government by an Indian tribe, the signing of a treaty which relinquished Cherokee claims to lands east of the Mississippi River, and the assembly of Indians for removal west on the infamous Trail of Tears.
Historic Sites in Chatsworth, GA
82 Highway 225 N, Chatsworth, GA
from gastateparks.org:
During the 1790s, James Vann became a Cherokee Indian leader and wealthy businessman. He established the largest and most prosperous plantation in the Cherokee Nation, covering 1,000 acres of what is now Murray County. In 1804 he completed construction of a beautiful 2 ½ story brick home that was the most elegant in the Cherokee Nation. After Vann was murdered in 1809, his son Joseph inherited the mansion and plantation. Joseph was also a Cherokee leader and became even more wealthy than his father.
In the 1830s almost the entire Cherokee Nation was forced west by state and federal troops on the infamous Trail of Tears. The Vann family lost their elegant home, rebuilding in the Cherokee Territory of Oklahoma. Today the Vann House survives as Georgia's best-preserved historic Cherokee Indian home. A guided tour allows visitors to see the house which features beautiful hand carvings, a remarkable "floating" staircase, a 12-foot mantle and fine antiques.
Historic Sites in Dahlonega, GA
1 Public Square, Dahlonega, GA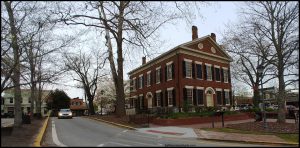 from gastateparks.org:
Twenty years before the 1849 gold rush in California, thousands of prospectors flocked into the Cherokee Nation in north Georgia, marking the true beginning of our country's first gold rush. Dahlonega thrived and a U.S. Branch Mint opened in 1838, coining more than $6 million in gold before closing in 1861. Today, visitors can see a complete set of these rare coins, a nugget weighing more than five ounces, a large hydraulic cannon and nozzle used to blast soil from mountainsides, film and gift shop.
For over a century the secrets of the Diving Bell were held beneath the murky waters of the Chestatee River. On October 18, 1876, the Diving Bell and its boat sank under mysterious circumstances. While ending the short career of the only manned submersible gold mining operation in Georgia, it did not end the mystery of how it sank or where it came from.
Historic Sites in Sautee Nacoochee, GA
143 Highway 17, Sautee Nacoochee, GA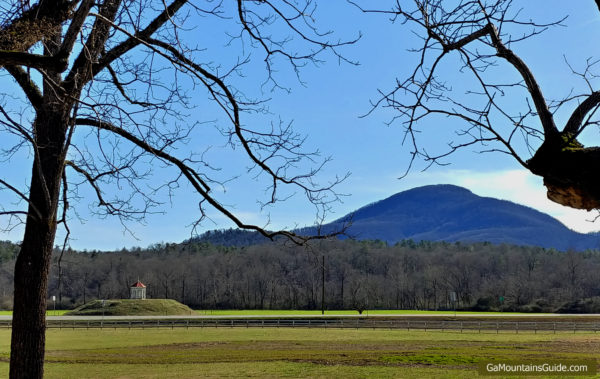 from gastateparks.org:
The Sautee Nacoochee Indian Mound at Hardman Farm is perhaps the best known feature of Hardman Farm, located just south of Helen in White County. The Nacoochee Mound is a burial site and was probably used long before the Cherokee inhabited the area.
Guided house tours include the 19th-century parlor, original lighting, and interesting telephone and climate control system. Visitors will also see the bedroom belonging to Anna Ruby Nichols, the namesake of nearby Anna Ruby Falls. The old barn was the focal point of Nacoochee Dairy that operated from 1910 until the mid-1920s. Guests will learn how milk was processed and transported, plus they will see a spring house and former horse barn. The tree-lined road leading from the Visitor Center to the house is a remaining portion of the historic Unicoi Turnpike. This 200-mile road went from Toccoa to western North Carolina and eastern Tennessee. It began as a buffalo trail, then a Native American trading route.
283 GA-255, Sautee Nacoochee, GA
from https://www.snca.org/snc/home:
Creativity is alive and well in the North Georgia Mountains. For 35 years, the historic Sautee and Nacoochee Valleys have been home to a vital institution which has nurtured and supported the local community in many ways. The Sautee Nacoochee Center is the face of the Sautee Nacoochee Community Association and offers its programs not only in support of the creative arts but to bind the north Georgia community together in friendship and understanding.
As one of the strongest community arts programs in the state and the nation we have earned support from a number of regional and national funders. We also generate impressive local support from a community that genuinely values what we bring to their lives. In turn we value the people of these hills and valleys and what they bring to the world.
Historic Sites in Hiawassee, GA
Historic Sites in Rabun Gap, GA
open for different types of visits on Saturday afternoons
Hambidge is listed on the National Register of Historic Places as a rural historic district. The campus includes 9 artist studios, a working grist mill, an old weave shed turned into a gallery, a modern pottery facility, an anagama pottery kiln and a number of other buildings and structures (see below for more information). Accommodations are intentionally simple. Each studio has its own charm and character with separate work and sleeping areas as well as a kitchen, outfitted for basic cooking, and bath. Studios are heated and linens, quilts, comforters and other necessary items are provided. The structures themselves are out of view from each other and while the campus spans 600 acres, each studio is only a short hike to Lucinda's Rock House, where dinners are served and Wi-Fi is available.