Free Stuff in the Georgia Mountains – Maps, Travel Guides, Food & More!
What could be better than getting something for free? There are many different ways to score great deals in North Georgia if you know where to look. Enjoy these great free Georgia mountain resources!
Free Stuff in North Georgia
There are a handful of different categories of North Georgia freebies. Find the ones most interesting and relevant to you and learn below how to sign up for these great offers.
Free Georgia Maps & Travel Guides
Plan a great trip in Georgia no matter which part of the state you'd like to see. Use the online form to request a free printed map and area brochures to be mailed to you from Georgia's tourism organization. Online versions of the official state map of Georgia are also available. For anyone interested in Georgia's counties, click here to view an online map of Georgia counties (note there are no roads printed on the county map).
Download or request a hard copy of this guide via mail — available in 9 different languages (Chinese, French, German, Italian, Japanese, Korean, Portuguese, Spanish, UK English).
interactive guide featuring Georgia's state park
download this free book for kids and learn more about Georgia's wildlife
Free Entrance to Museums & Parks
See these posts for details about visiting some of the area's premier spots on their annual free days! Georgia residents and visitors can both take advantage of these great free offers!
Get free entrance to all of the US National Parks on these 5+ free days each year. No signup is required.
Take advantage of free admission to National Forest Sites during these dates occurring 4+ times per year! No signup is required.
Free admission to Smithsonian Museums across the country on Museum Day!
1 time per year (September 18, 2021)
Requires advance signup to a single museum
Free admission to historic sites all across the state of Georgia!
1 time per year (February 6, 2022)
No advance signup required
Georgia law requires that anyone 16 and older have a fishing license in their possession — purchase one online from the Electronic Georgia Licensing (EGAL) system or call 1-800-366-2661. Anyone can also take part in the free fishing days in Georgia (dates change each year).
The Wildlife Resources Division (WRD) of Georgia DNR provides rods, reels and tackle box equipment to participating State Parks and Historic Sites Offices. Interested visitors can inquire at the park office and check out the equipment for the day. This program provides a way for budding anglers to try fishing without having to purchase any equipment.
Also, Georgia residents with a library card may be able to check out park admission passes and parking permits from the Library Loan Program to get free access to many of Georgia's State Parks and Historic Sites. These passes can be checked out at any time of year (subject to availability). Check with your local library for more details and to check out your pass!
Have the law team of Corales & Woody review your legal case at no charge with a free consultation. Legal consultations are free and are available over the phone in English or Spanish. Learn more about the Corales & Woody team online or call +1 (678) 961-3999 anytime (24/ 7).
Free Attractions
Let your wallet take a break with these free activities in the North Georgia mountains. Always call to confirm participation or reserve your space where necessary.
Get free admission daily to Babyland General Hospital where the iconic Cabbage Patch Kids are born. Closed on holidays.
Address: 300 N.O.K. Drive, Cleveland, GA
Barker's Creek Mill has been providing the community with milling services since the mid-1800s. The current mill was built by Mary Hambidge in 1944 at the site of an older mill. Barker's Creek Mill is still operated by Hambidge on the First Saturday of each month and by appointment (to provide milling services to local farmers). The volunteer miller is happy to answer your questions.
Organic grits and cornmeal are stone ground at the mill and can be purchased in 2-pound bags at the mill on First Saturdays.
FIRST SATURDAY of each month from 1:00 p.m. – 4:00 p.m.
Located at 4507 Betty's Creek Road, Rabun Gap, GA
Enjoy free planetarium shows and night sky telescope viewing of celestial objects! The planetarium features a 30-foot diameter dome and can seat an audience of 46 people.
Free planetarium shows at the Coleman Planetarium 

Most Fridays at 8:00 pm (approximately 40 minutes)
Shows incorporate a full-dome video and a live presentation of the current night sky
Shows change throughout the year to reflect changes in the evening skies and new developments in science
Coleman Planetarium is located at Health and Natural Sciences Building, 159 Sunset Drive (Room 234), Dahlonega, GA

Free telescope viewings at North Georgia Astronomical Observatory
The RM Rose Company Distillery is a small distillery offering FREE tastings and FREE tours and tastings at their Dillard distillery. Available 7 days a week.
Visit the O. Wayne Rollins Planetarium at Young Harris College on selected Friday evenings for a live-narrated "seasonal stargazing" segment in addition to the featured full-dome program.  This planetarium features a 40-foot diameter dome and can seat an audience of 104 people.
The observatory features a 14-inch telescope for observing sessions that may last up to one hour. Located ~1.5 miles from the main campus at Twiggs Overlook on the exit road leading from Brasstown Valley Resort. Maps are available at Rollins Planetarium at 1 College St, Young Harris, GA. Please note that there is limited parking, an uphill walk from the parking area, and no restroom facilities are available.
View the Rollins Planetarium schedule and purchase tickets ($5 adults / $3 students) online
YHC students are free with a YHC ID
Watch online for upcoming open house nights that offer free admission to the public
Historic in-town farmstead with exhibits on family and local history. A millinery shop (the oldest wood commercial building in Clarkesville) with antique clothes, hats, and other millinery items. The Big Holly Cabin, an original one-room log cabin, is also located on the grounds.
Phone: +1 (706) 754-2220
Address: 458 Jefferson Street, Clarkesville, GA
Guided tours on Wednesdays from 1:00 p.m – 4:00 p.m. or by appointment
Free Classes & Workshops
FREE workshops at local stores for kids and adults on a DIY-kick
Blairsville Home Depot store at 17 Highway 515, Blairsville, GA
Blue Ridge Home Depot store at 10012 Blueridge Drive, Blue Ridge, GA
Clayton Home Depot store at 1551 Hwy 441 South, Clayton, GA
Dahlonega Home Depot store at 140 Maxwell Lane, Dahlonega, GA
Dawsonville Home Depot store at 226 Power Center Dr, Dawsonville, GA
Gainesville Home Depot store at 924 Dawsonville Hwy, Gainesville, GA
Jasper Home Depot store at 205 Bill Wigington Pkwy, Jasper, GA
Toccoa Home Depot store at 302 Memorial Drive, Toccoa, GA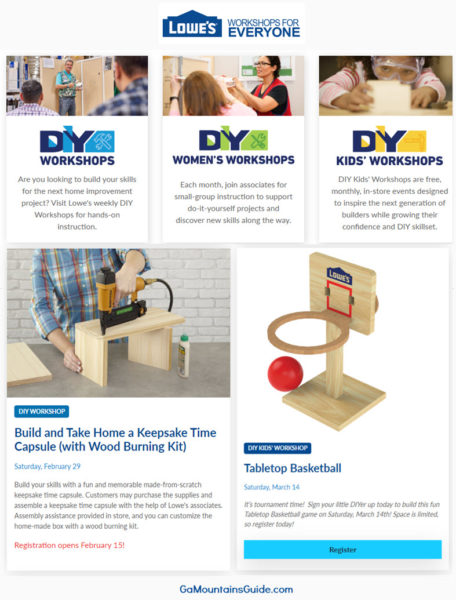 FREE workshops at local stores include Building a Keepsake Time Capsule, Installing Laminate Floors, and Building a Tabletop Basketball Set.
Enjoy a wide variety of classes for all age levels (advance online registration required). Available for both REI members ($20 for lifetime membership) and non-members (members usually get discounted rates).
Free Food & Drink in the Georgia Mountains
These national chains offer annual freebies for special occasions. Take advantage of them in any part of the country! NOTE that you should make sure to confirm that each location is participating as locally-owned franchise stores occasionally choose to opt out of nationwide promotions.
Annual Free coffee on National Coffee Day on September 29th.
Buford store located at Mall of Georgia, 3333 Buford Drive, Buford, GA
Cumming store located at 410 Peachtree Pkwy, Cumming, GA
Annual Free coffee on National Coffee Day on September 29th.
Buford location inside Mall of Georgia, 3333 Buford Drive, Buford, GA
Rabun Gap location inside Clipper Petroleum, 4548 Highway 441, Rabun Gap, GA
Free Entree when dressed as a cow on Cow Appreciation Day until 7:00 p.m. (annually on the 2nd Tuesday of July). The Chick-fil-A "Cow Appreciation Day" gives everyone who participates a FREE entree choice.
Adults dressed like a cow will receive a free entrée of their choice (see store for choices for breakfast and lunch/dinner). Children wearing anything cow-like will receive a free Kid's Meal of their choice.
Redeem at North Georgia mountain locations including:
Free Queso: Customers who order from Chipotle on National Burrito Day (annually on the 1st Thursday of April) will receive free Queso Blanco when it is added to an entrée (build your go-to entrée and add queso blanco as a topping). Chipotle will also continue to offer free delivery on orders of $10 or more made via the Chipotle app or Chipotle.com through April 30, 2020.
Redeem at North Georgia locations including:
Canton Chipotle Restaurant at 2026 Cumming Hwy Ste 110, Canton, GA  30115
Dawsonville Chipotle Restaurant at 285 Marketplace Blvd, Dawsonville, GA  30534
Or use the Chipotle location finder to locate more Chipotle Mexican Grill restaurants.
Free food via app: Get a Free Chicken Crunch Burrito on National Burrito Day (annually on the 1st Thursday of April) with any purchase made through the Del App for drive-thru, takeout, or delivery. Take advantage of free Del Taco delivery offers in your area from Postmates, Doordash, or Grubhub.
Redeem at North Georgia locations including:
Calhoun Del Taco Restaurant at 250 E. Highway 53, Calhoun, GA  30701
Gainesville Del Taco Restaurant at 1198 Dawsonville Highway, Gainesville, GA 30501
Or use the Del Taco location finder to locate more Del Taco restaurants.
Free donut w/purchase for Free Donut Day (annually on the 1st Friday in June) and other offers for rewards club members, like Free Donut Wednesdays through April 21, 2021.  DD Perks Members receive offers throughout the year with a free enrollment!
Blairsville restaurant located at 16 Bracketts Way, Blairsville, GA
Blue Ridge area restaurant located at 8200 Appalachian Hwy, Mineral Bluff, GA
Cleveland restaurant located at 212 S Main St, Cleveland, GA 
Dahlonega restaurant located at 25 Morrison Moore Pkwy, Dahlonega, GA
Ellijay restaurant located at 600 Howard Simmons Rd, Ellijay, GA 
Free Chocolate Covered Cored Apple for Free Donut Day (annually in June)
Flowery Branch store located at 5887 Spout Springs Road, Flowery Branch, GA
Cumming store located at 2315 Market Pl Blvd, Cumming, GA 
Get a free short stack of pancakes and a chance to win additional prizes on National Pancake Day (February).
East Ellijay restaurant located at 90 Highland Crossing S, East Ellijay, GA
Multiple promotions and free offers throughout the year!
Free donut for Free Donut Day (annually on the 1st Friday in June)
Free coffee on National Coffee Day WEEKEND (annually on September 29th)
Free rewards year-round through loyalty club
Redeem at North Georgia locations including:
Ongoing offers:  Currently offering for free delivery on orders of $10 or more. Ongoing offer of free kid's entree with every adult entree purchased (check location for participation).
Annual Free Queso Day in late September.
Free donut for Free Donut Day (annually in June).
Check with local stores for specific offer details.
***
What are your favorite freebies in the Georgia mountains?